About Community Council
Each public school, in accordance with Utah State Legislature, is required to establish a School Community Council (SCC) consisting of parents, teachers, and the principal. The council makes decisions about the funds the school receives from the School LAND Trust Program. The council prepares a school improvement plan and a School LAND Trust spending plan to identify and address the school's greatest academic need(s). Plans are submitted to and approved by the local school board for implementation the following year. Other duties of the council include the development of a Child Access Routing Plan, a reading achievement and intervention program, and to give input on digital citizenship and safe technology use in schools. The council may also act as an advisory board for any topics related to the functions of the school.
Please contact a council member if you have any questions or concerns that you would like to be addressed.
Additional SCC guidelines, codes, and bylaws can be found at the Utah State Legislature site

.
Opportunity for Parents and Community
Council Member Names
Sheila White – Chair
Robbin Peterson – Vice Chair
Chelsea Ness – Secretary
Other Members:
Peter Baksis – Escalante Principal
Stacy Davis – Teacher
Laura McKerracher – School Employee
Amber Thompson – Parent
Caroline Gardner – Parent
TirriAnn Nelson – Parent
Contact Information
President: ryanandshelia@gmail.com
Vice President: robbin.bookworm@gmail.com
Secretary: cness14@gmail.com
Meeting Schedule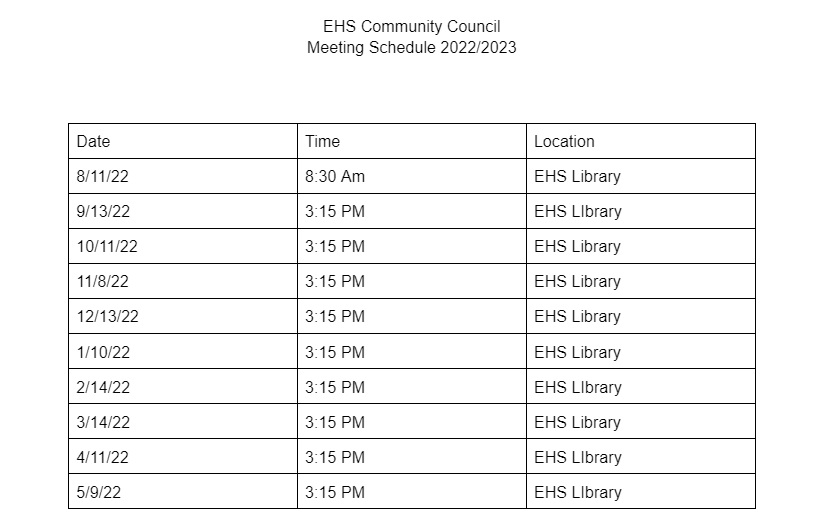 Rules of Procedure

SCC Files

Archived Data

EHS School Plan 2022 – 2023

School Land Trust

EHS School Goals 2022 – 2023

Current Year Funding
$35,503.00 With the 2020 – 2021 carryover of Trustland Funds
$25,944.00 – Current year Funding for 2021 – 2022
Teacher and Student Success Plan (TSSP)